Erice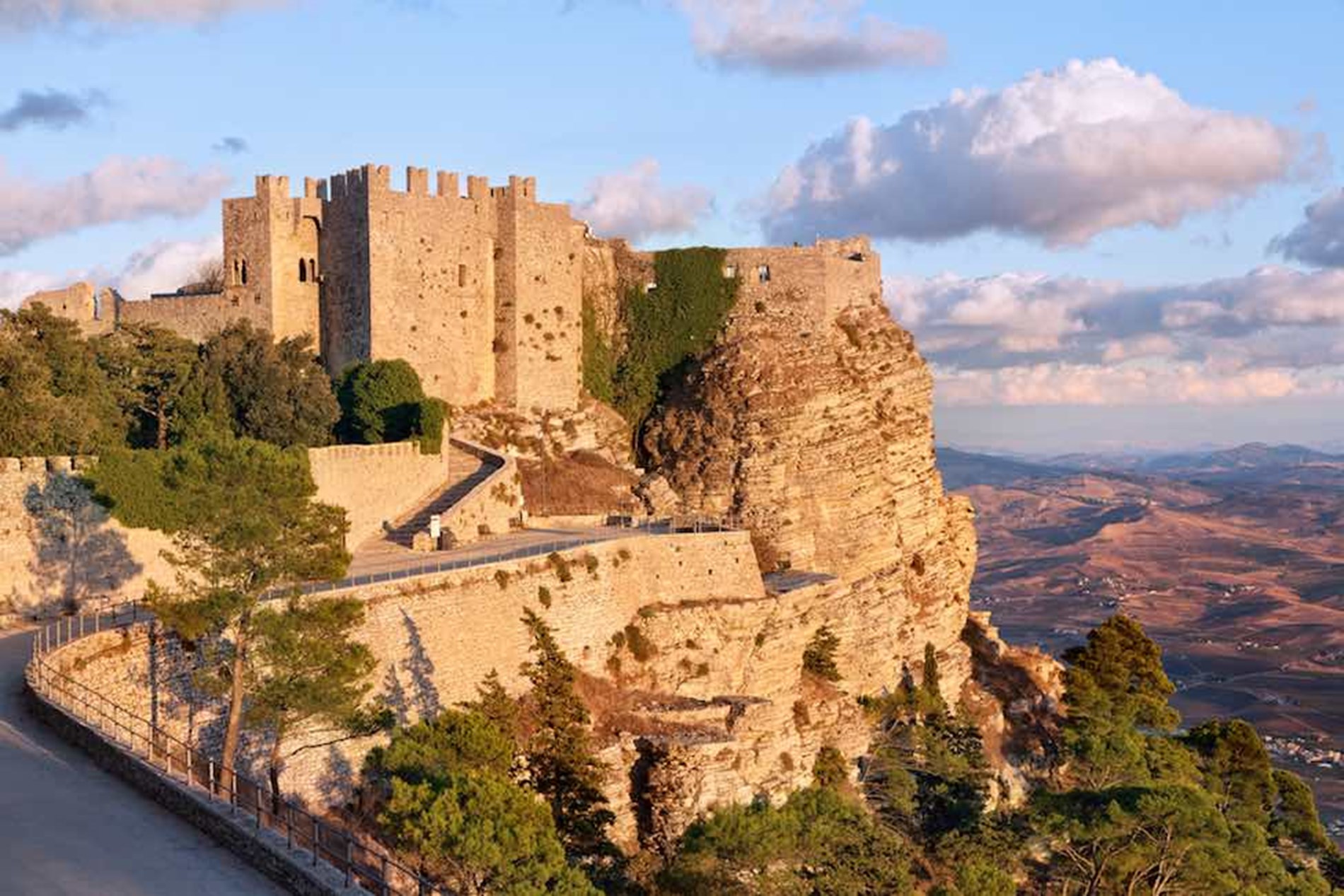 The town is situated on the summit of an isolated mountain and is 15 km from Trapani.
With its fortifications and narrow streets perched atop high cliffs, 750 m. above sea level, Erice is located in a beautiful scenic location and on clear days you can spot the Etna on the horizon: the city has now established itself as one of the main tourist destinations in Sicily.
Erice hosts more than sixty churches, some of which are architectural documents of great value and historical valuable evidence: among them the church of St. Martin, San Cataldo, San Giuliano di San Giovanni Battista.
The San Giuliano church was built by the Normans around Mille, heavily transformed in the seventeenth century; interesting because of its pink stone facade is now used as a classroom lectures and cultural center. The St. John the Baptist factory is recognizable by its white dome that stands isolated at the eastern end of the city; of medieval origin, it was rebuilt in the '600 and maintains the entrance Gothic portal.
Among the many monuments of great importance is the Mother Church (XIV c.), Dedicated to the Assumption, the Medieval Castle (XII-XIII sec.) With the remains of the temple and the Municipal Building, home to a library and museum Cordici with archaeological finds from the Erice necropolis, among which a head of Aphrodite of the fourth century. B.C
For Erice the climate is typically Mediterranean but, in consideration of the altitude, is particularly cold in winter, when it is not unusual that the city and the entire top of the mountain are wrapped in a thick layer of fog; in the summer it's nice, but it's always good to bring along a sweater.
In Erice houses the Center for Scientific Culture "Ettore Majorana", founded in 1963, it is an important cultural catalyst for the city and has become over the years a center of excellence in scientific research at the international level.
The events and the most significant events for the city are generally those promoted by the Ettore Majorana Center, which continuously collects and hosts international delegations and conventioneers fame.
This was followed by conferences, lectures, laboratory studies, the workshop on scientific research themes, animated by the indefatigable Professor. Zichichi who is the animator of the Study Center.
On those occasions we are often offered to participants in conferences, shows, concerts and cultural events of high level, which even the non-conference participants can take part.
The most important cultural event of the city is held instead at the end of summer and the Week of Medieval and Renaissance Music: become a fixed appointment for many years for early music lovers: at that time the alleys and medieval churches resound magic of music recovered memory by internationally renowned artists.